Toy Hauler Travel Trailers for sale in Montana and Idaho
Get ready for adventure this season with a toy hauler travel trailers! Toy hauler travel trailers are specifically designed to be the ideal RV for the true adventurer. With a ton of storage space in the garage area in the rear, you can take all of your favorite gear along with you on any road trip that you have on the books. Don't miss your chance to browse through our selection of toy hauler travel trailers for sale at Bretz RV & Marine in Montana and Idaho. You'll be able to bring all your motorsports toys on your next adventure! 
If this sounds like the kind of RV that you have been looking for, you can absolutely check out our complete inventory of new and used toy hauler travel trailers for sale in the listing below. Or, if you have any questions about our toy hauler travel trailers, or any of our other new RVs for sale and used RVs for sale, you can contact us today for all of the details. We can't wait to help get you into the RV of your dreams here at your favorite toy hauler travel trailer dealer in Montana and Idaho.
Toy Hauler Travel Trailer
Is a Toy Hauler T

ravel Trailer

Right for You?
Our favorite aspect of RVing is the room. You've got room for family, friends, and if you know what you're doing, room for your toys. And no, not just extra camping gear, we mean adventure vehicles. Four wheelers, ATVs, dirt bikes, anything on wheels that gets your blood pumping. Sure, you could get a plain trailer and tow these things with you, but why not combine the best of both worlds? With a toy hauler, you get just that, room for your friends, room for your family, and room for your toys. Visit Bretz RV & Marine in Montana and Idaho, and let our sales team show you what camping can really be like.
---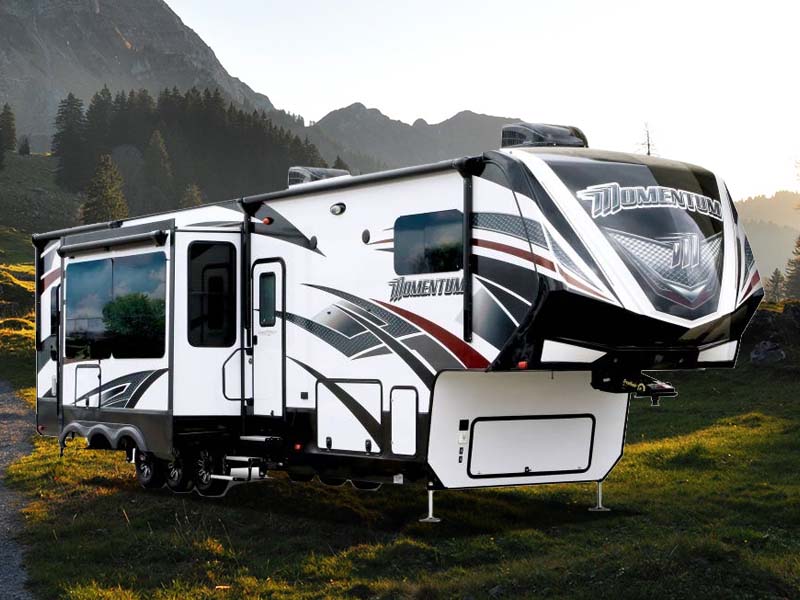 What's the Difference?
A toy hauler comes in both fifth wheel and travel trailer options, and what really sets them apart is the large, open cargo port. either a side wall or even the entire rear of the RV will fold out into a ramp, allowing you easily drive your adventure vehicles inside. Typically this ramp is connected to a garage area for easy storage and easy workspace when quick tune-ups are needed. Once you've arrived and your vehicles are unloaded for the day, the ramp and garage make for additional outdoor living space. With a mosquito net and a cooler, your ramp becomes a rear patio.
---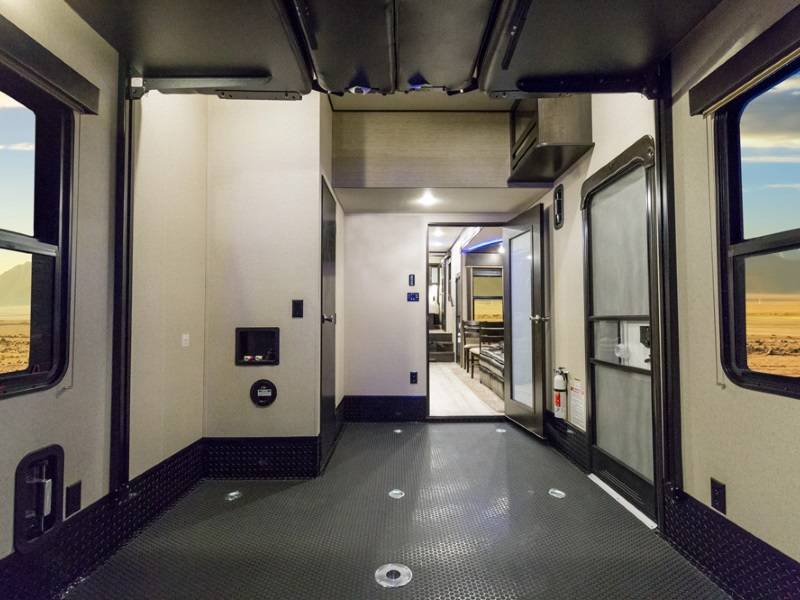 How Much Can I Bring?
Really, this is determined by the size and weight of the toy hauler itself, just like any vehicle you might tow. What you really need to consider is how you're going to tow your toy hauler. If you've got a lightweight trailer you might not need a heavy-duty truck. But if you're looking at larger models, and then add in the weight of your powersports vehicles, you're going to want a full-sized truck to get from point A to point B. Just remember, everything you bring with you adds to the total weight, including fuel, generators, propane, groceries. Generally speaking, though, toy haulers have a maximum load limit of around 2500 pounds, so make sure your tow vehicle has an appropriate rating and you'll be set.
---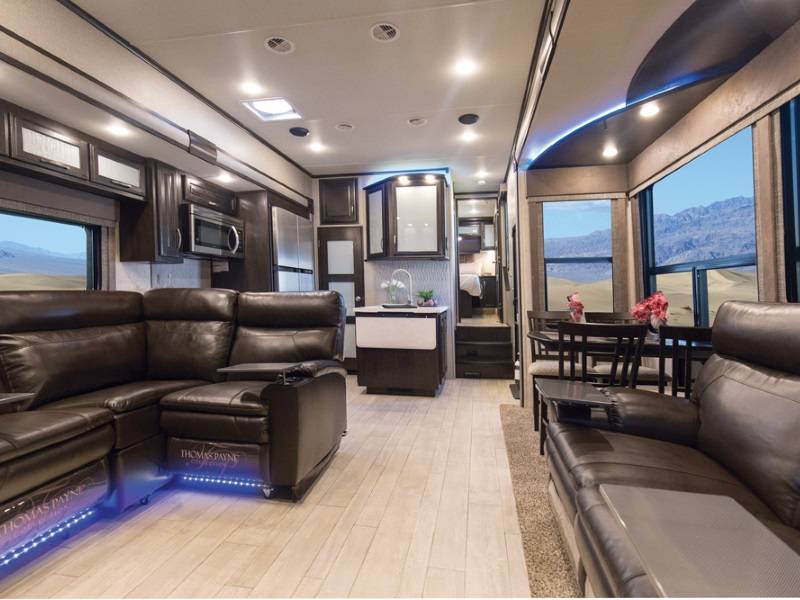 So What Do I Get Out of This?
You get complete and total freedom. Seriously, you're not limited to adventure vehicles, bring your kayak or extra boating gear, a golf cart or moped, or just use the extra room to squeeze in a few more friends for the perfect weekend in the woods. Set up a base camp and spend your days blazing trails or tearing up the mud, and then huddle around the campfire or spend an evening indoors watching movies. You'll have plenty of living and storage space and they don't skimp on the amenities. From the smallest trailer style models to the larger 5th wheel variants, you can customize the interior of your toy hauler to match your needs. Open floorplans, larger kitchens, these RVs are for those who don't just want to get back to nature but experience it on every level. Visit Bretz RV & Marine, serving all of Montana and Idaho, and let our team show you what we have to offer. However you choose to travel, when adventure calls, we've got the perfect new or preowned toy hauler to get you and your gear out on the road.