Truck Campers for sale in Boise, Idaho
Truck campers deliver the convenience of a larger RV while offering mobility and affordability! Bretz RV & Marine in
Boise, ID
carries a range of truck campers for every trip and every budget, so you're sure to find the truck camper of your dreams! 
Truck Camper
QUEEN BED ~ WET BATH & REAR AWNING !

QUEEN BED ~ WET BATH & REAR AWNING !
About Our Truck Campers
Put a slide-in camper directly into the bed of your truck, and you have a great, easily detachable way to enjoy a weekend. Although they are slightly smaller than a travel trailer or fifth wheel, these campers make great use of the space in storage, sleeping, and leisure. Remember to keep an eye on the payload of your truck when considering a pickup truck camper; this is a critical component of making your camper decision.

Simply put, truck campers offer more, more freedom, more economy, more time camping and less time worrying about costly repairs or accessibility. More than any other RV, a truck camper can go anywhere and won't cost you an arm and a leg getting there. And while there's no one camper perfect for everyone, at Bretz RV & Marine, you've got options. Choose from any of our hard side or pop-up truck campers. Each of our manufacturers carries different floor plans and layouts, different amenities, different upgradable features. Take a look at our inventory above, or keep reading for the low-down on the various truck camper manufacturers we carry.
---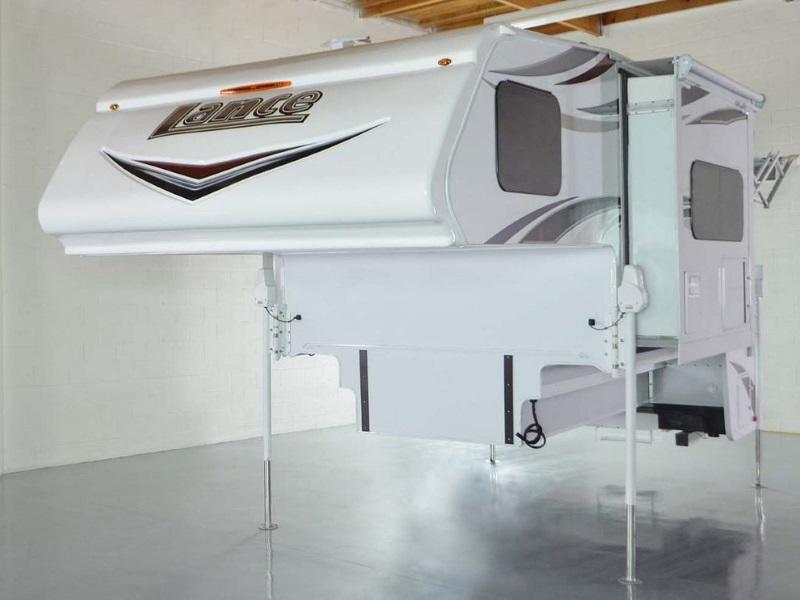 Lance Campers
Lance truck campers are America's favorite lightweight RVs. You won't find a camper with greater versatility, maneuverability, or off-road capability. You can literally take your Lance truck camper anywhere your pickup can reach, and unload your camper once you arrive so you've got the freedom to roam independently without a camper weighing you down. You never have to worry about compensating for a turn radius and no campground will be off-limits due to size restrictions. And if you're able to drive a pickup, you're able to drive with a truck camper attached. And with the compact size you can take your next camping adventure off-road, so get out and do some boon-docking or overlanding, and escape into nature without leaving the comforts of home behind. However you choose to get away from it all, Lance has a truck camper to fit your rig and personality.
---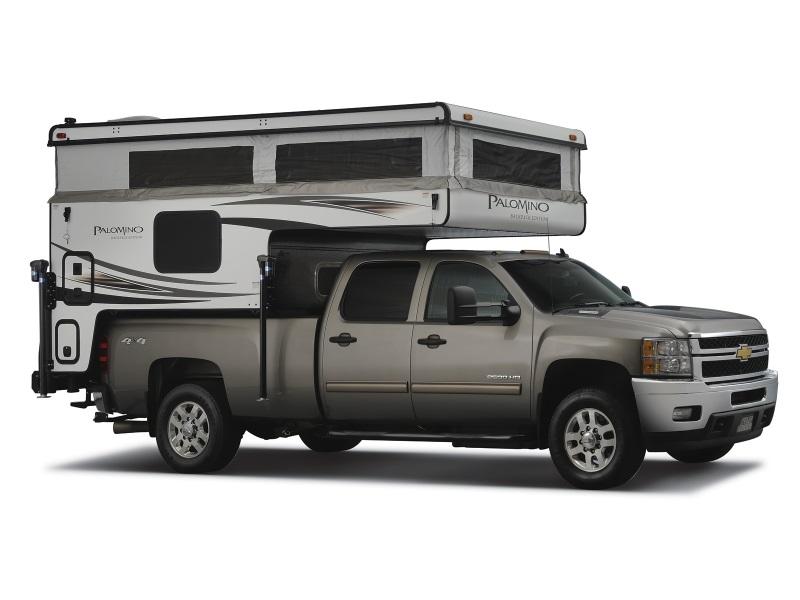 Palomino Campers
Palomino specializes in soft-side truck campers, though they do have hard side options as well, and each comes with the Rieco Tian® electric lift, so you never need to worry about loading or unloading into your truck. These versatile RVs are designed to fit a wide range of trucks and they're no slouch on the interior either. You'll find spacious living quarters and an incredible selection of amenities and features, plenty of cabinet storage, frameless windows, and premium kitchenette. So hit the road, pull up to your favorite fishing hole or park alongside your favorite lake, if you can get there in a truck, you can stay there in a Palomino truck camper.
---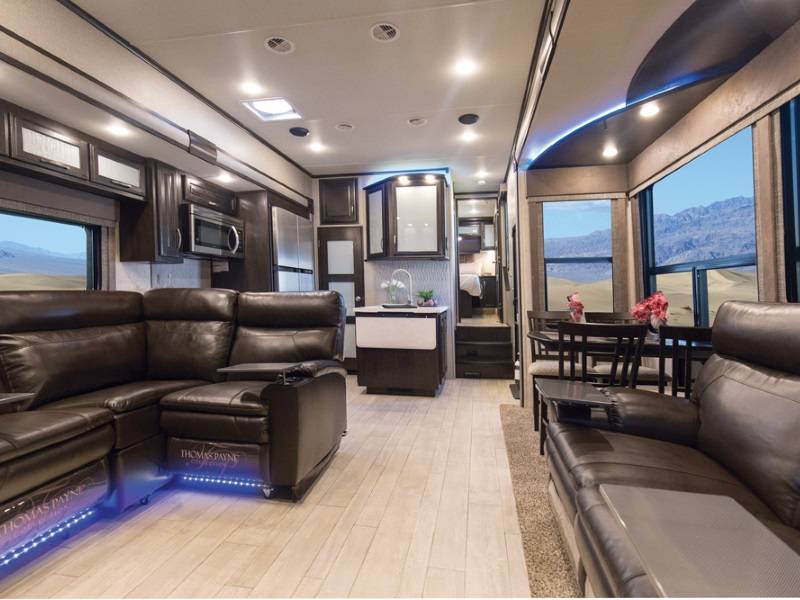 So What Do I Get Out of This?
You get complete and total freedom. Seriously, you're not limited to adventure vehicles, bring your kayak or extra boating gear, a golf cart or moped, or just use the extra room to squeeze in a few more friends for the perfect weekend in the woods. Set up a base camp and spend your days blazing trails or tearing up the mud, and then huddle around the campfire or spend an evening indoors watching movies. You'll have plenty of living and storage space and they don't skimp on the amenities. From the smallest trailer style models to the larger 5th wheel variants, you can customize the interior of your toy hauler to match your needs. Open floorplans, larger kitchens, these RVs are for those who don't just want to get back to nature but experience it on every level. Visit Bretz RV & Marine, serving all of Idaho and let our team show you what we have to offer. However you choose to travel, when adventure calls, we've got the perfect new or preowned toy hauler to get you and your gear out on the road.