Featured Inventory
REAR CORNER BATHROOM

Regular Price:

$46,405

Save:

$11,410

SALE PRICE:

$34,995

DOUBLE SIZE BUNKS !

Regular Price:

$46,405

Save:

$11,410

SALE PRICE:

$34,995

70" SOFA & KING BED

Regular Price:

$67,913

Save:

$20,418

SALE PRICE:

$47,495

Must See Toy Hauler !

Regular Price:

$135,754

Save:

$35,759

SALE PRICE:

$99,995

Beautiful Class B Diesel Just Arrived!

Regular Price:

$202,170

Save:

$42,175

SALE PRICE:

$159,995

Let Your Adventure Begin Here!

Regular Price:

$62,990

Save:

$6,995

SALE PRICE:

$55,995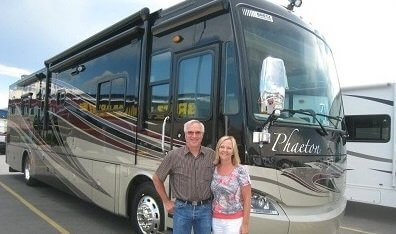 Our Happy Campers
We were treated so well! Was one of the best experiences with buying something we have ever had! We were so happy with Jeremy Winters & Mike Gornick, you're lucky to have them on the Bretz RV team!
- Edward from Bozeman, MT
Read More Reviews
RVs, Boats, Service, Parts & More in Nampa
Bringing Family & Lifestyle Together
Welcome to Bretz RV, your dedicated, family-owned and operated RV dealer in Montana and Idaho. Bretz RV & Marine is proud to be Montana's largest RV dealer, as well as serve Idaho and the surrounding Northwest region, and we contribute our success to our tight-knit team of adventurers who live the lifestyle we're helping you to enjoy. Our values are to provide a world-class purchasing and ownership experience to our customers. We showcase the best inventory in the state at volume discount prices and feature a knowledgeable service department that stands behind our products.

Family-owned since 1967, Bretz RV knows that a great RV can lead to memorable moments with family and friends, which is why we're dedicated to helping you find the best RV to fit your needs. Our mission is to help families go camping and boating, enjoy the outdoor lifestyle, and get them back out quickly when something unexpected happens. A leader in Montana and Idaho RV sales, we carry over 75 RV and boat brands to choose from, the largest inventory under the big sky! We also feature an extensive RV parts and accessories department to keep you running smoothly during your travels. Whether you're looking for a luxurious Tiffin Class A motorhome, an affordable Keystone travel trailer, a Chaparral boat, or anything in between, Bretz is the ultimate destination to find it all.

If you have any questions, feel free to contact us. The Bretz family and team have been on their fair share of RV adventures, so we are confident in providing honest and helpful advice for those entering the RV lifestyle in Montana, Idaho, and beyond. Let Montana's #1 dealer get you on the road to adventure! Visit us at our Montana or Idaho locations today!