Featured Inventory
This Luxury Diesel SUPER C is here NOW ! Call for more information

Regular Price:

$291,435

Save:

$101,440

SALE PRICE:

$189,995

Call for details! More Photos Coming Soon !

Regular Price:

$60,704

Save:

$10,209

SALE PRICE:

$50,495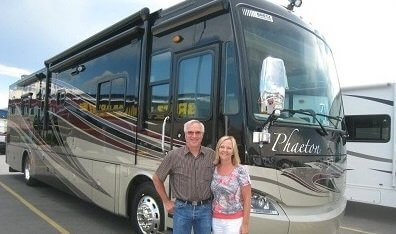 Our Happy Campers
We were treated so well! Was one of the best experiences with buying something we have ever had! We were so happy with Jeremy Winters & Mike Gornick, you're lucky to have them on the Bretz RV team!
- Edward from Bozeman, MT
Read More Reviews
When you're investing in a traveling lifestyle or have plans to go on more trips with the family, give yourself total peace of mind by visiting the best family-run recreational vehicle (RV) and boat dealer in Nampa, Idaho — Bretz RV & Marine. Serving families in Nampa, Idaho, and the surrounding areas, we're proud to be the state's largest RV dealer. We have the most comprehensive and curated collection of RVs and boats in the state and surrounding areas, along with the best prices.
Our knowledgeable service team can assist you in finding advice, financing options, RV or boat components, and so much more. Giving consumers a first-rate boating or RV ownership experience is one of our company's core commitments, so check out what we have to offer.
New and Used RVs in Nampa, Idaho
We have hundreds of new and used RVs available at our location in Nampa, Idaho, and we can also accommodate special or custom orders. When you're ready to start your search, you can find our RV inventory online, where you can easily browse our collections of new and used RVs by price, size, brand, weight, number of bedrooms, and so much more.
Our used recreational vehicles are in very good shape thanks to thorough inspections. Check us out if you've been searching for Class A diesel or gas motorhomes, Class B and C motorhomes, and other categories of vehicles in Nampa, Idaho. If you're searching for fifth wheels, toy haulers, travel trailers, pop-up campers, teardrop trailers, and anything in between, start your search with us.
New and Used Watercrafts in Nampa, Idaho
We invite you to review our range of new and used boats, whether you wish to go fishing, try out some water sports, or even start a tour company on the nearby waters. You can browse the most diverse collections of wake/surf boats from Cabrio to SVX OB Series brands, aluminum fishing boats, deck boats, deep-V hull boats, pontoons, and even sporting boats for fishing, water skiing, and other activities.
New or pre-owned, big or small, standard or luxurious, we have a boat that can turn all your maritime fantasies into reality. Find your ticket to new adventures on the water at Bretz RV & Marine in Nampa.
Parts and Services
As the largest RV and marine parts and service provider in Nampa, Idaho, Bretz RV & Marine can help just about anyone looking to repair and maintain their treasured purchases and pass them down in great condition. With such a large market, locating the proper component to repair a problem can be challenging. Find precisely what you need with our department. If anything is initially unavailable for order, we can often request it from our suppliers and arrange delivery by the next day.
Sometimes, before even getting the right parts, you need an expert to diagnose what exactly has gone wrong. We have you covered, whether you boat once a month or travel full-time in an RV. Our team frequently maintains new and used models from major and lesser-known marine and RV brands.
In addition, if your RV needs maintenance while you're a long way from home, you can still find quality service. We are a part of the Priority RV Network, containing more than 198 locations nationwide. 
Trade-Ins and Financing
if you're considering obtaining financing for a premium brand, such as G3, Havoc, or Moomba Boats, contact our finance team. We enjoy helping those new and experienced with our vehicles to start visiting more lakes, trails, and other beautiful sights around Nampa. Whether you need a boat, an RV, or both, our connections with more than 16 major lenders can make it happen. We frequently get our customers better terms and prices through expert negotiation while working quickly and communicating with you.
Mandatory closing and state titling procedures can be completed simultaneously with the primary loan documents, removing unnecessary waiting from the buying process. Applying for preapproval with Bretz RV & Marine online is risk-free and doesn't require any personal information, so why not give it a try today?
Want to sell your present boat or RV, as well? If you've worked hard to take care of it, don't let an unscrupulous buyer undervalue it. With our precise approach, you can get the best market value in cash or as a trade-in. Complete our online form and accept the exchange in person after a brief condition check. We make every effort to purchase your boat or RV as quickly and easily as possible.
Why Should You Choose Us?
We're the top RV and boat dealer from Missoula to Nampa, Idaho. View our inventory of new and practically new RVs and see if anything you like falls under our current discounts or special sales events. You can browse our selection of luxury RVs, budget beginning motorhomes, and boats somewhere in between. Find the best deals in town at your leisure, alone or with the help of our team. You may even be able to go boating or camping now and pay later for a much lower total price than expected.
Apart from excellent service and special offers, we're a part of the Priority RV Network, the largest delivery servicing network for RV owners in North America. The network includes 126+ service sites in the U.S. and 72 in Canada. In Nampa, Idaho, and far beyond, you can receive diagnostic checkups, part replacements, roadside breakdown repairs, and anything else you might need faster than anywhere else you might find.
Get Assistance Finding RVs and Boats in Nampa
If you have any questions about our new or used boats or RVs for sale, please don't hesitate to contact us. The same applies to any inquiries regarding RV or boat financing, servicing, or parts. We're one step ahead of other RV stores in Nampa, Idaho, so make us your go-to dealership. For additional information, get in touch with us by your preferred method, visit during business hours, or browse through the wealth of information about RVs and Boats on our website.
RVs, Boats, Service, Parts & More in Nampa
Bringing Family & Lifestyle Together
Welcome to Bretz RV, your dedicated, family-owned and operated RV dealer in Montana and Idaho. Bretz RV & Marine is proud to be Montana's largest RV dealer, as well as serve Idaho and the surrounding Northwest region, and we contribute our success to our tight-knit team of adventurers who live the lifestyle we're helping you to enjoy. Our values are to provide a world-class purchasing and ownership experience to our customers. We showcase the best inventory in the state at volume discount prices and feature a knowledgeable service department that stands behind our products.

Family-owned since 1967, Bretz RV knows that a great RV can lead to memorable moments with family and friends, which is why we're dedicated to helping you find the best RV to fit your needs. Our mission is to help families go camping and boating, enjoy the outdoor lifestyle, and get them back out quickly when something unexpected happens. A leader in Montana and Idaho RV sales, we carry over 75 RV and boat brands to choose from, the largest inventory under the big sky! We also feature an extensive RV parts and accessories department to keep you running smoothly during your travels. Whether you're looking for a luxurious Tiffin Class A motorhome, an affordable Keystone travel trailer, a Chaparral boat, or anything in between, Bretz is the ultimate destination to find it all.

If you have any questions, feel free to contact us. The Bretz family and team have been on their fair share of RV adventures, so we are confident in providing honest and helpful advice for those entering the RV lifestyle in Montana, Idaho, and beyond. Let Montana's #1 dealer get you on the road to adventure! Visit us at our Montana or Idaho locations today!